Product Description
Jaw spacer coupling,
1. The couplings offer a range of hub and element selection to meet different demands.
2. They can absorb shock and cater for incidental misalignment and damp out small amplitude vibrations.
3. NBR, Urethane, Hytrel elements.
4. Compared with Jaw coupling, their flanges are connected by longer shaft ends(DBSE), a spacer kit
    consists  of a spacer and QF ring kit (wrap+QF ring+3 screws).
5. Customzied requirement is available.
ZheJiang Shine Transmission Machinery Co., Ltd is specialized in manufacturing and selling transmission products.
Our products are exported to the world famous machinery company in Europe, America, South Africa, Australia, Southeast Asia etc.
Our main products include: European pulley, American pulley, Couplings, taper bushing, QD bush, lock element, adjustable motor base, motor rail, sprockets, chain, bolt on hubs, weld on hubs, jaw crusher equipment & spare parts and all kinds of non-standardCasting products etc.
 
| | |
| --- | --- |
| Standard Or Nonstandard: | Standard |
| Shaft Hole: | 0-65mm |
| Torque: | >80N.M |
| Bore Diameter: | 0-65mm |
| Structure: | Flexible |
| Material: | Aluminum/Iron/Rubber |
Samples:

US$ 0.00/Piece

1 Piece(Min.Order)

|
Request Sample
Customization:

Available

|

Customized Request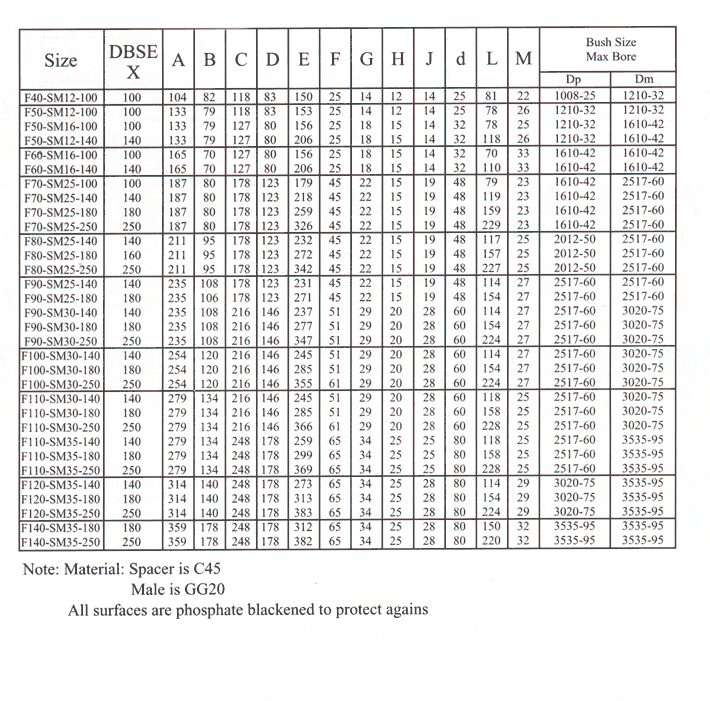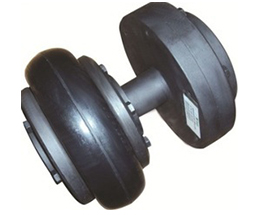 How Do Spacer Couplings Compare to Other Types of Couplings in Terms of Performance?
Spacer couplings offer distinct advantages and disadvantages compared to other types of couplings, making them suitable for specific applications:
1. Misalignment Tolerance: Spacer couplings have limited flexibility and can handle only minor misalignment between shafts. In contrast, flexible couplings like elastomeric and gear couplings can accommodate higher levels of misalignment due to their elastic properties.
2. Torque Transmission: Spacer couplings provide excellent torque transmission capabilities, making them suitable for heavy-duty applications. They can efficiently transfer torque between shafts without backlash.
3. Maintenance Requirements: Spacer couplings are relatively simple in design and do not require frequent maintenance. They do not have moving parts or wearing elements, reducing the need for regular inspection and replacement.
4. Torsional Stiffness: Spacer couplings offer high torsional stiffness, ensuring precise and reliable torque transmission between the connected equipment.
5. Installation and Alignment: Installing a spacer coupling requires careful alignment between shafts. While it may be more involved compared to some flexible couplings, proper alignment is essential for optimal performance.
6. Cost: Spacer couplings are generally more cost-effective than some high-performance flexible couplings, making them an attractive choice for various industrial applications.
7. Application Suitability: Spacer couplings are commonly used in applications where rigid and reliable torque transmission is required, such as pumps, compressors, and other heavy machinery.
8. Operating Conditions: Spacer couplings can handle high temperatures, making them suitable for applications in challenging environments.
When selecting a coupling for a specific application, it is essential to consider the specific needs of the system, including the required misalignment compensation, torque transmission capacity, maintenance requirements, and operating conditions. Each coupling type has its strengths and limitations, and the choice will depend on the unique demands of the application.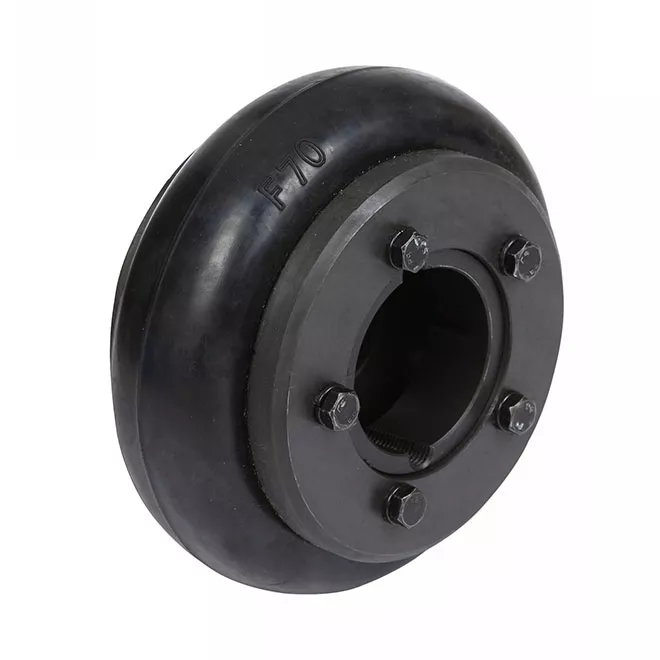 What Role Does a Spacer Coupling Play in Reducing Downtime and Maintenance Costs?
A spacer coupling plays a crucial role in reducing downtime and maintenance costs in rotating machinery by offering the following benefits:
1. Misalignment Compensation: Rotating equipment is subject to various types of misalignment during operation, which can lead to premature wear and failure of components. Spacer couplings can accommodate angular, parallel, and axial misalignment between shafts, which helps minimize the stress on the connected equipment. By reducing the impact of misalignment, spacer couplings contribute to extending the service life of the machinery and its components.
2. Vibration Damping: Vibrations in rotating machinery can lead to increased wear, fatigue, and reduced efficiency. Spacer couplings often include flexible elements made of elastomeric materials that act as vibration dampers. These elements absorb and dissipate vibration energy, reducing the transmission of harmful vibrations to the connected equipment. As a result, the machinery operates more smoothly and experiences less stress, leading to lower maintenance requirements.
3. Shock Load Absorption: During the operation of machinery, sudden shock loads may occur due to starting or stopping processes or external impacts. Spacer couplings with elastomeric or metallic flexible elements can absorb and cushion these shock loads, protecting the connected equipment from damage. By mitigating the effects of shock loads, spacer couplings contribute to the reliability and longevity of the machinery.
4. Easy Maintenance and Replacement: Spacer couplings are designed for ease of maintenance. In the event of a failure or wear of the flexible element, the coupling can be easily disassembled and the damaged component replaced, reducing downtime. The modular design of spacer couplings simplifies the maintenance process, helping to minimize the time required for repairs and reducing associated maintenance costs.
5. Corrosion Resistance: Many spacer couplings are manufactured using materials with excellent corrosion resistance, such as stainless steel or coated alloys. This corrosion resistance extends the service life of the coupling and reduces the need for frequent replacements or maintenance due to corrosion-related issues.
6. Reliability and Dependability: Spacer couplings are known for their robustness and reliability. When properly selected, installed, and maintained, they provide a dependable means of power transmission. The reduction in unplanned downtime due to coupling failure contributes to overall operational efficiency and lower maintenance costs.
In summary, spacer couplings help reduce downtime and maintenance costs in rotating machinery by accommodating misalignment, damping vibrations, absorbing shock loads, and offering ease of maintenance. Their reliability and ability to protect connected equipment contribute to improved operational efficiency and longer service life of the machinery, leading to cost savings over time.



editor by CX 2023-08-17