Product Description
Standard FCL90 FCL100 FCL200 FCL280 FCL Flexible Coupling
FCL Couplings:
| | |
| --- | --- |
| Product Name | FCL coupling |
| Material | Cast iron/Aluminum/Steel |
| Part Number | FCL90-FCL630 |
| Surface Treatment | Phosphating/Blacking |
| Bore size  | Available |
| Size | Standard & Custom |
Main Products:
1. Timing Belt Pulley (Synchronous Pulley), Timing Bar, Clamping Plate; 
2. Forging, Casting, Stampling Part; 
3. V Belt Pulley and Taper Lock Bush; Sprocket, Idler and Plate Wheel;Spur Gear, Bevel Gear, Rack;  
4. Shaft Locking Device: could be alternative for Ringfeder, Sati, Chiaravalli, Tollok, etc.; 
5. Shaft Coupling: including Miniature couplings, Curved tooth coupling, Chain coupling, HRC coupling, 
    Normex coupling, Type coupling, GE Coupling, torque limiter, Universal Joint;  
6. Shaft Collars: including Setscrew Type, Single Split and Double Splits; 
7. Gear & Rack: Spur gear/rack, bevel gear, helical gear/rack.
8. Other customized Machining Parts according to drawings (OEM) Forging, Casting, Stamping Parts.
Packaging & Shipping:
All the products can be packed in cartons,or,you can choose the pallet packing.
MADE IN CHINA can be pressed on wooden cases.Land,air,sea transportation are available.UPS,DHL,TNT,
FedEx and EMS are all supported.
Company Introduction:
Factory View:
Exhibition:
Certification:
FAQ:
1. MOQ
 A: Generally, 1 pc for standard parts; contact for nonstandard parts.
2. Delivery Time
 A: In stock: within 5 working days. Out of stock: depends on your order quantity.
3. How To Select
 A: part number or drawing, catalogue. If no, you can send us your sample, so we can make the drawing and sample accordingly.
4: What is the Warranty for your products?
 A:Normally our warranty is 1 year.
Contacts:
| | |
| --- | --- |
| Standard Or Nonstandard: | Standard & Nonstandard |
| Shaft Hole: | 11-95mm |
| Torque: | >80N.M |
| Bore Diameter: | 90-630mm |
| Speed: | 4000r/M |
| Structure: | Flexible |
Samples:

US$ 0.1/Set

1 Set(Min.Order)

|
Request Sample
Customization:

Available

|

Customized Request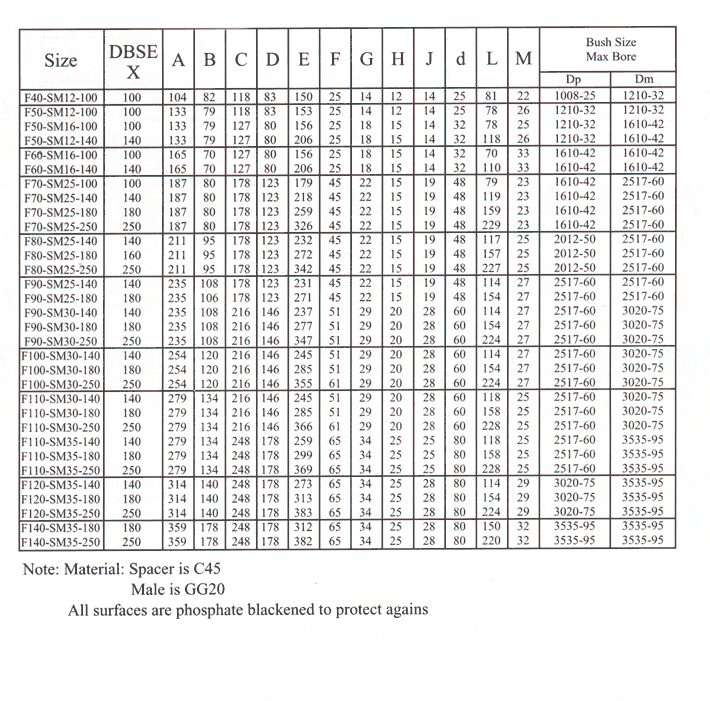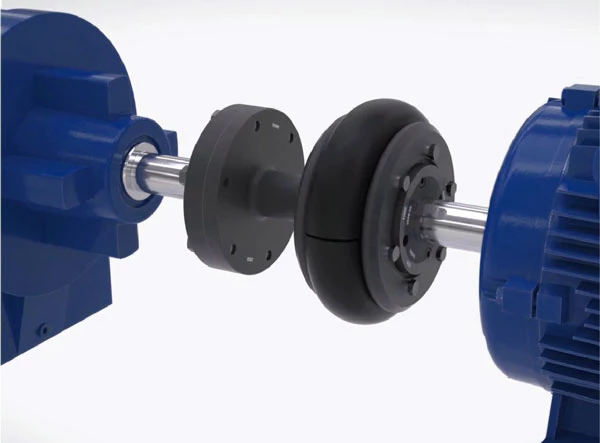 How Does a Spacer Coupling Protect Connected Equipment from Shock Loads and Vibrations?
Spacer couplings play a vital role in protecting connected equipment from shock loads and vibrations in mechanical systems. They act as a buffer between the driving and driven components, absorbing and mitigating the impact of sudden shocks and vibrations. Here's how spacer couplings provide this protection:
1. Dampening Effect: Spacer couplings are designed with flexible elements or materials that possess inherent damping properties. When subjected to shock loads or vibrations, these flexible elements absorb and dissipate the kinetic energy, reducing the impact on the connected equipment. This dampening effect helps prevent damage to delicate components and extends the equipment's lifespan.
2. Misalignment Compensation: In addition to damping, spacer couplings can also accommodate certain degrees of angular, parallel, and axial misalignment between the shafts. When misalignment occurs, the coupling's flexibility allows it to adjust slightly, reducing the transmitted forces to the connected equipment. By minimizing the effects of misalignment, spacer couplings help avoid excessive forces that could lead to shock loads and vibrations.
3. Vibration Isolation: Vibrations can be generated by various sources, including unbalanced loads, motor vibrations, and external factors. Spacer couplings, with their flexible elements, act as vibration isolators, preventing the propagation of vibrations from one shaft to the other. This isolation protects the connected equipment from experiencing detrimental vibrations that may lead to wear, fatigue, or failure.
4. Torsional Stiffness: While spacer couplings offer flexibility to absorb shock loads and vibrations, they also possess adequate torsional stiffness. This property helps maintain shaft alignment and synchronization during normal operation, reducing the risk of additional vibrations caused by misalignment or torsional forces.
5. Material Selection: Spacer couplings are often manufactured from materials with excellent fatigue and shock resistance properties, such as steel or aluminum alloys. The choice of materials ensures that the coupling can withstand repeated shock loads without experiencing premature fatigue or failure.
6. Redundancy and Reliability: In critical applications where shock loads and vibrations are common, some designs incorporate multiple flexible elements or redundancies to enhance the coupling's reliability and capacity to handle extreme conditions.
Overall, spacer couplings are essential components in mechanical systems that require protection against shock loads and vibrations. Their ability to dampen, isolate, and compensate for misalignment helps maintain the health and longevity of connected equipment, ensuring smooth and reliable operation in various industrial settings.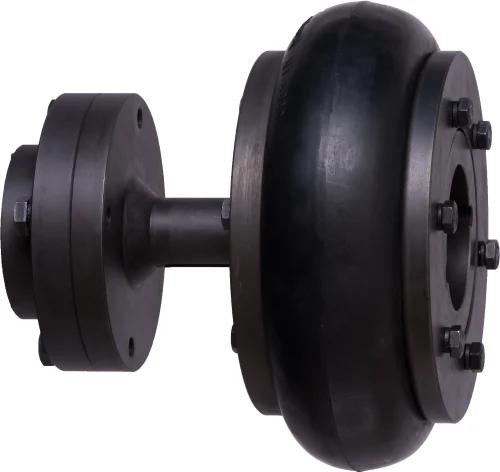 What Industries Commonly Use Spacer Couplings for Power Transmission?
Spacer couplings are widely used in various industries for power transmission due to their versatility and ability to accommodate misalignment between shafts. Some of the industries that commonly use spacer couplings include:
1. Oil and Gas: In the oil and gas industry, spacer couplings are employed in various applications, including pumps, compressors, and turbines. They help transmit power efficiently and reliably in challenging operating conditions.
2. Power Generation: Power plants, including fossil fuel-based, nuclear, and renewable energy plants, utilize spacer couplings to connect shafts in generators, turbines, and other rotating equipment.
3. Chemical Processing: The chemical industry relies on spacer couplings to transfer power in agitators, mixers, pumps, and other processing equipment. The ability to withstand harsh chemical environments makes them suitable for such applications.
4. Mining and Minerals: In mining and mineral processing, spacer couplings are utilized in crushers, conveyors, and other heavy machinery to transfer power between shafts while compensating for misalignment and vibration.
5. Water and Wastewater: In water treatment plants and wastewater facilities, spacer couplings are used in pumps and aerators to ensure efficient power transmission and handle the often challenging environmental conditions.
6. Manufacturing: Various manufacturing industries use spacer couplings in equipment such as extruders, mixers, and printing machinery to transfer power and maintain precision in production processes.
7. Pulp and Paper: The pulp and paper industry utilizes spacer couplings in pulp refiners, digesters, and paper machines, where they help transmit power and accommodate the misalignment that can occur during operation.
8. Marine and Offshore: In marine applications, spacer couplings are used in propulsion systems and various onboard equipment to transfer power effectively and handle dynamic loads at sea.
9. Aerospace: The aerospace industry employs spacer couplings in aircraft engines and auxiliary power units (APUs) to connect rotating components and ensure reliable power transmission.
10. Food and Beverage: The food and beverage industry uses spacer couplings in processing equipment such as mixers, conveyors, and pumps, where they help maintain hygiene standards while transferring power.
Advantages of Using Spacer Couplings in These Industries:
– Spacer couplings can handle high torque and misalignment, enhancing the reliability and efficiency of power transmission systems in diverse applications.
– They provide easy installation and maintenance, reducing downtime and ensuring smooth operations.
– Spacer couplings are available in various sizes, materials, and configurations to suit specific industry needs.
– Their ability to absorb shock loads and dampen vibrations enhances the longevity of connected equipment.
– Spacer couplings are designed to withstand harsh environmental conditions, making them suitable for use in challenging industrial settings.
– They contribute to overall system safety by preventing excessive stress on machinery components.
– In summary, spacer couplings play a crucial role in power transmission across a wide range of industries, contributing to the smooth and efficient operation of machinery and equipment in various applications.



editor by CX 2023-09-12