Product Description
SM spacer coupling high quality cheap price

1. The highly resilient flexible tyre cushions shock loads, smoothing out load between riving and driven machine.
    Enable high levels of misalignment to be accommodated.
2. The flanges are available in either F(face) or H (hub) taper bushfitting or bored to size. With an additional
    Spacer flange the coupling can be used to accomodate standard distance between shaft ends and facilitate
    Pump maintenance.
3. It is easy installation and no maintenance or lubrication is required.
4. Customzied requirement is available.
5. Rubber tyres Connecting the 2 half-couplings directly by bolts when installing.
6. Flexibility, large damping, large compensation dosage.
7.Simple designing, easy for assembling and disassembling
| | |
| --- | --- |
| Delivery Time: | 30 Days for Sm Spacer Coupling |
| OEM: | Available for Sm Spacer Coupling |
| Company Location: | Shanghai China for Sm Spacer Coupling |
| Payment Term: | T/T L/C for Sm Spacer Coupling |
| Model Type: | Sm12/080/F40,Sm12/100/F040,Sm16/100/F050— |
| Capacity: | 10000PCS/Month for Sm Spacer Coupling |
Customization:

Available

|

Customized Request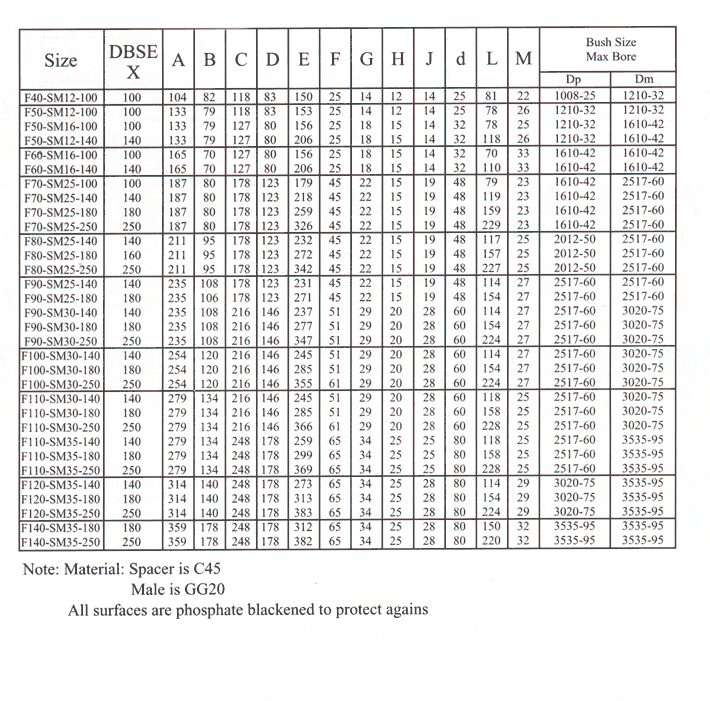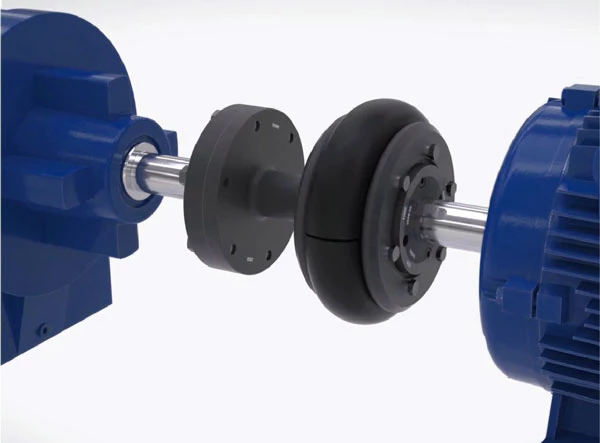 How Does a Spacer Coupling Protect Connected Equipment from Shock Loads and Vibrations?
Spacer couplings play a vital role in protecting connected equipment from shock loads and vibrations in mechanical systems. They act as a buffer between the driving and driven components, absorbing and mitigating the impact of sudden shocks and vibrations. Here's how spacer couplings provide this protection:
1. Dampening Effect: Spacer couplings are designed with flexible elements or materials that possess inherent damping properties. When subjected to shock loads or vibrations, these flexible elements absorb and dissipate the kinetic energy, reducing the impact on the connected equipment. This dampening effect helps prevent damage to delicate components and extends the equipment's lifespan.
2. Misalignment Compensation: In addition to damping, spacer couplings can also accommodate certain degrees of angular, parallel, and axial misalignment between the shafts. When misalignment occurs, the coupling's flexibility allows it to adjust slightly, reducing the transmitted forces to the connected equipment. By minimizing the effects of misalignment, spacer couplings help avoid excessive forces that could lead to shock loads and vibrations.
3. Vibration Isolation: Vibrations can be generated by various sources, including unbalanced loads, motor vibrations, and external factors. Spacer couplings, with their flexible elements, act as vibration isolators, preventing the propagation of vibrations from one shaft to the other. This isolation protects the connected equipment from experiencing detrimental vibrations that may lead to wear, fatigue, or failure.
4. Torsional Stiffness: While spacer couplings offer flexibility to absorb shock loads and vibrations, they also possess adequate torsional stiffness. This property helps maintain shaft alignment and synchronization during normal operation, reducing the risk of additional vibrations caused by misalignment or torsional forces.
5. Material Selection: Spacer couplings are often manufactured from materials with excellent fatigue and shock resistance properties, such as steel or aluminum alloys. The choice of materials ensures that the coupling can withstand repeated shock loads without experiencing premature fatigue or failure.
6. Redundancy and Reliability: In critical applications where shock loads and vibrations are common, some designs incorporate multiple flexible elements or redundancies to enhance the coupling's reliability and capacity to handle extreme conditions.
Overall, spacer couplings are essential components in mechanical systems that require protection against shock loads and vibrations. Their ability to dampen, isolate, and compensate for misalignment helps maintain the health and longevity of connected equipment, ensuring smooth and reliable operation in various industrial settings.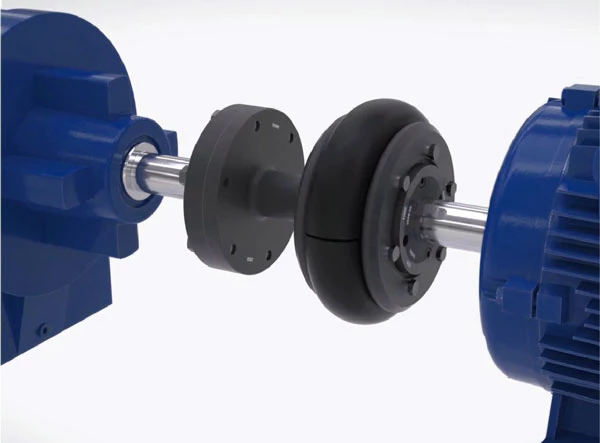 Factors to Consider When Choosing a Spacer Coupling for a Specific System
Choosing the right spacer coupling for a specific system requires careful consideration of various factors to ensure optimal performance and reliability. Here are the key factors to keep in mind:
1. Operating Conditions: Understand the operating conditions of the system where the spacer coupling will be used. Consider factors such as torque requirements, rotational speed, temperature range, and environmental conditions (e.g., corrosive, humid, or dusty environments).
2. Misalignment Compensation: Determine the type and magnitude of misalignment that the coupling needs to accommodate. Spacer couplings can handle angular, parallel, and axial misalignments to varying degrees, so selecting the appropriate coupling design is critical.
3. Shaft Sizes and Types: Ensure that the spacer coupling's bore size matches the shaft diameters of the connected equipment. Additionally, consider whether the shafts are keyed, splined, or have other special features that may require customization of the coupling.
4. Coupling Material: The choice of material for the spacer coupling depends on the application's requirements. Common materials include steel, stainless steel, aluminum, and various alloys. Consider factors such as strength, corrosion resistance, and temperature limits when selecting the material.
5. Torque and Speed Ratings: Determine the required torque and rotational speed ratings for the coupling based on the power transmission needs of the system. Select a coupling that can handle the specified torque and speed without exceeding its limits.
6. Spacer Length: The length of the spacer in the coupling affects the distance between connected equipment. Ensure that the chosen spacer length allows for proper clearance and alignment between the components.
7. Installation and Maintenance: Consider the ease of installation and maintenance requirements of the spacer coupling. Some couplings may require more frequent maintenance than others, which can impact overall system downtime.
8. Cost and Budget: Evaluate the cost of the spacer coupling and ensure that it fits within the project budget. While cost is a consideration, it is essential not to compromise on quality and performance for the sake of cost savings.
9. Industry Standards and Regulations: Ensure that the chosen spacer coupling complies with relevant industry standards and safety regulations. Adherence to these standards helps guarantee the coupling's quality and suitability for the intended application.
10. Supplier and Support: Choose a reputable supplier with a track record of providing high-quality spacer couplings. A reliable supplier can offer technical support, assistance with selection, and post-purchase services if required.
By carefully considering these factors and evaluating the specific needs of the system, engineers and designers can select the most appropriate spacer coupling to ensure efficient power transmission, reduce wear on connected equipment, and enhance overall system performance and reliability.



editor by CX 2023-10-21