Product Description
Meets specifications and standards of ASA, ASME, and SAE. 
Operating pressure up to 1200 psi. -65°F to +250°F (-53°C to +121°C).
Dryseal pipe threads (NPTF). Large range of sizes and configurations. 
They are used with brass, bronze, and iron pipe. 
Typical Applications:
Refrigeration systems
Instrumentation systems
Hydraulic systems
Fuel, LP, and natural gas available on special order
FAQ
Q1: Are you a manufacturer or a trading company?
A: We are a brass fittings manufacturer and we also developed the business of paint tools trading these years.
 
Q2: What are your main products?
A: We provide all kinds of quality brass fittings, including brass hose fittings, pipe fittings, compression fittings, etc. In addition to brass fittings, we develop the trading business of painting tools, including paint brushes, paint rollers, knee pads, putty knives, and other relevant products.
 
Q3: Do you have a certificate? 
A: Yes, ISO, ROHS, SGS, Material Certification.
 
Q4: How can I get the samples?
A: Generally, we could send you the samples for FREE, and you just need to pay the courier fee.
If there are too many samples, then you still need to undertake the sample fee, but they can be refundable after you place the order.
 
Q5: If there is any quality problem, how do you solve it?
A: Usually, our quality Warranty after the sales is 1 year. Just contact us if there are any issues you found. Normally replacement, or compensation, or resend goods to you on next orders as per the condition. To be discussed as per the condition.
 
Q6: Why chooses us?
A: More than 20 years in the industry. It makes us professional. Our staff of engineers offers high-valued design guidance to assure product performance and efficiency. And We always focus on Quality, our strict adherence to rigorous quality control and tolerance standards leads to the easier assembly of finished components at your facility. 
How to Properly Install and Secure a Reducer Coupling to Prevent Leaks
Proper installation and secure fastening of a reducer coupling are crucial to prevent leaks and ensure the integrity of the plumbing or piping system. Here are the steps to follow when installing a reducer coupling:
Prepare the Pipes: Before installing the reducer coupling, ensure that the ends of both pipes are clean, smooth, and free from any debris or burrs. Use a pipe cutter or a hacksaw to achieve clean cuts.
Apply Primer (For Plastic Pipes): If you are working with plastic pipes like PVC or CPVC, use a pipe primer to clean and prepare the pipe ends. The primer helps in removing dirt and contaminants while promoting proper adhesion of the solvent cement.
Apply Solvent Cement (For Plastic Pipes): After priming (if required), apply a layer of solvent cement to the outside of one pipe end and the inside of the reducer coupling socket. Make sure to use the appropriate cement compatible with the pipe material.
Align the Pipes: Insert one pipe end into the socket of the reducer coupling, ensuring that it is fully seated. Make sure the pipes are aligned properly, and there is no gap between the pipe end and the coupling socket.
Mark the Joint: Use a marker to mark the joint between the pipe and the coupling. This will serve as a reference point for proper insertion during the final assembly.
Secure the Coupling: If the reducer coupling has a slip-on design, push the coupling towards the marked joint until it is fully seated. For threaded reducer couplings, thread the coupling onto one of the pipes, ensuring a tight fit.
Tighten the Fasteners: If the reducer coupling has fasteners, such as nuts and bolts, tighten them securely to create a leak-resistant seal between the coupling and the pipes. Use the appropriate tools to achieve the recommended torque.
Inspect for Leaks: After installation, inspect the joint and the surrounding area for any signs of leaks. Turn on the water supply or the fluid being conveyed and check for any drips or seepage.
Allow Cure Time (For Plastic Pipes): If you used solvent cement for plastic pipes, allow sufficient time for the cement to cure before subjecting the joint to pressure or stress. Follow the manufacturer's instructions for cure time.
It is essential to follow the manufacturer's guidelines and best practices for the specific type of reducer coupling and pipe material being used. Proper installation and secure fastening will help ensure a leak-free connection and maintain the overall integrity of the plumbing or piping system.
Are There Industry Standards or Certifications for Reducer Couplings?
Yes, there are industry standards and certifications that apply to reducer couplings to ensure their quality, performance, and safety in plumbing and piping applications. These standards are established by various organizations and regulatory bodies to maintain consistency and reliability across the industry. Here are some of the common standards and certifications relevant to reducer couplings:
ASTM Standards: The American Society for Testing and Materials (ASTM) sets standards for various materials, including those used in reducer couplings. ASTM standards ensure the quality and performance of the materials used in the manufacturing of the couplings.
ASME Standards: The American Society of Mechanical Engineers (ASME) develops standards for various mechanical components, including couplings. ASME B16.9, for example, covers factory-made wrought steel buttwelding fittings, which include reducer couplings.
ANSI Standards: The American National Standards Institute (ANSI) develops and publishes standards that cover various aspects of coupling design, dimensions, and materials.
ISO Certifications: The International Organization for Standardization (ISO) provides certifications for manufacturers that adhere to internationally recognized quality management standards.
NSF/ANSI Certification: The NSF/ANSI certification is relevant for reducer couplings used in plumbing systems that convey drinking water. This certification ensures that the couplings comply with specific health and safety requirements for potable water applications.
UL Listing: The Underwriters Laboratories (UL) provide listing and classification for reducer couplings used in specific applications, such as fire protection systems, to ensure they meet safety standards.
It's essential to verify that the reducer couplings meet the relevant standards and certifications for the intended application. Using certified and compliant couplings ensures the proper functioning and safety of plumbing and piping systems.
When purchasing reducer couplings, look for manufacturers that provide documentation regarding compliance with industry standards and certifications. This information should be readily available and can help you make informed decisions when selecting the appropriate reducer coupling for your specific plumbing or piping project.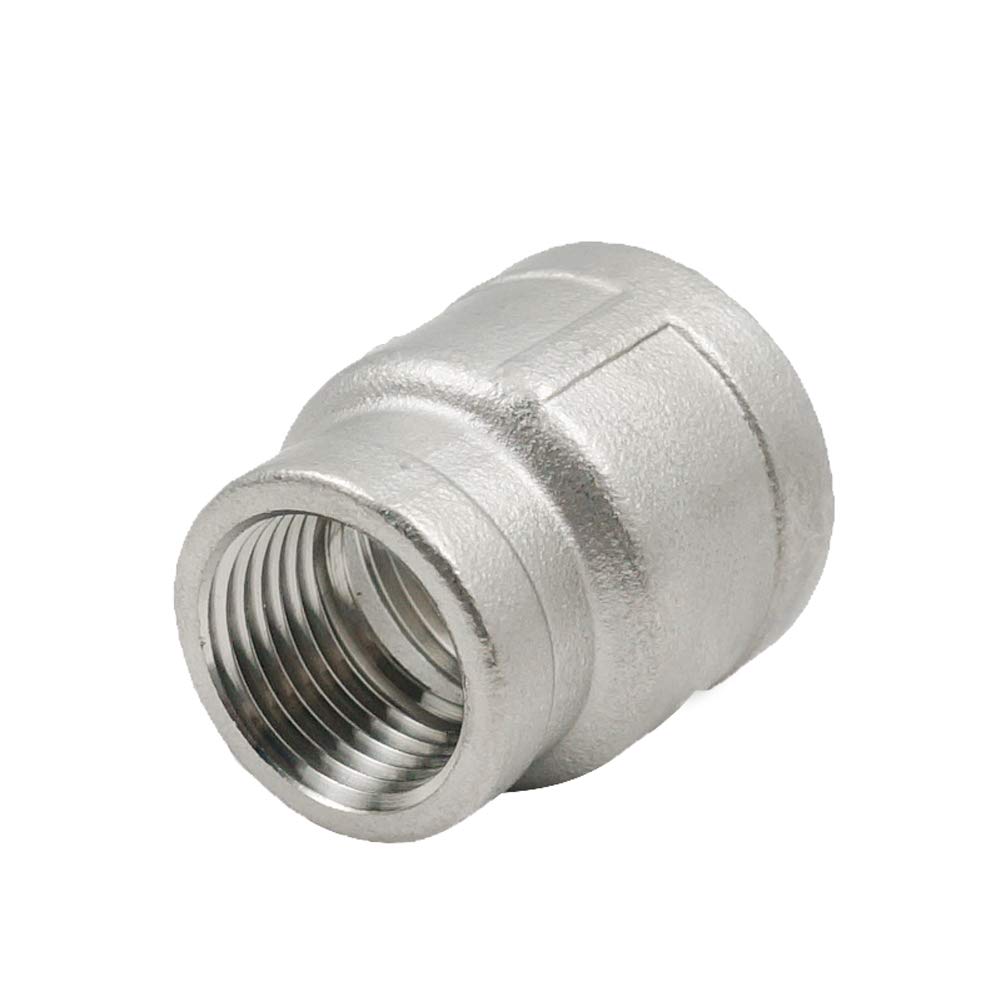 What is a Reducer Coupling and its Usage in Plumbing and Piping Systems
A reducer coupling is a type of plumbing fitting used to connect two pipes of different diameters together. It is designed to reduce the pipe size from a larger diameter to a smaller one, or vice versa, allowing for a smooth flow transition and proper alignment in plumbing and piping systems. The reducer coupling is also known as a reducing coupling or a pipe adapter.
Usage in Plumbing and Piping Systems:
Reducer couplings are widely used in various plumbing and piping systems to:
Flow Transition: In situations where there is a change in pipe size, such as when connecting a larger main supply line to a smaller branch line, a reducer coupling is employed to create a smooth transition and maintain an even flow of fluids or gases.
System Adaptation: Reducer couplings enable the adaptation of plumbing systems that use pipes of different diameters, allowing for flexibility and compatibility in system design.
Pressure Regulation: In some cases, a reducer coupling can be used to regulate the pressure in a plumbing or piping system by adjusting the pipe size and consequently affecting the flow rate.
Repair and Replacement: When repairing or replacing a section of a plumbing system, a reducer coupling can be used to join the new pipe with the existing one, even if they have different diameters.
Expansion and Contraction: In systems that experience thermal expansion and contraction, such as hot water lines, a reducer coupling can accommodate the dimensional changes while maintaining a leak-proof connection.
Reducer couplings come in various materials, including PVC, copper, brass, stainless steel, and more, depending on the specific application and the fluids or gases being conveyed. They are available in different configurations, such as threaded, solvent-weld, or compression fittings, to suit the joining method used in the plumbing or piping system.
Overall, reducer couplings play a vital role in plumbing and piping applications, ensuring proper flow, pressure regulation, and adaptability while maintaining the integrity of the system.



editor by CX 2023-08-08