Product Description
JS300 Series Full Demount Type Grid Coupling
♦Description
Grid Coupling is widely used in metallurgy, mining, lifting, transportation, petroleum, chemical, ships, textile, light industry, agricultural machinery, printing machines and pumps, fans, compressors, machine tools and other mechanical equipment and industry shaft transmission.
♦Feature
1.The serpentine spring as the elastic element, the elastic strong at the same time, greatly improves the grid coupling torque, widely used in heavy machinery and general    machinery.The serpentine spring special technology department, has long service life, allowing higher speed, has good ability to compensate in the axial, radial and angle.
2.High transmission efficiency, start safety. Transmission efficiency of up to 99.47%, short-time overload capacity is 2 times the rated torque, operation safety.
3.Simple structure, convenient assembly and disassembly, long service life.
4.Damping effect is good to avoid the resonance.
♦Basic Parameter and Main Dimension
Model
Nominal
Torque
Nm
Speed
r/min
Y,Z Bore
d1,d2
D
BE
A
L
F
Clearance (K)
Oil injection
Kg
No bore mass
Kg
Max
Min
Min
Max
JS301
45
3600
28
14
98
90
200
40
52
28
3
0.03
3.8
JS302
125
3600
35
14
110
90
220
50
52
32
3
0.03
5.2
JS303
224
3600
42
14
120
90
220
55
52
38
3
0.06
8.4
JS304
400
3600
48
14
138
110
220
65
62
40
3
0.06
12.4
JS305
630
3600
55
19
155
130
330
75
62
43
3
0.09
19.5
JS306
900
3600
65
19
170
130
330
90
82
47
3
0.09
24.4
JS307
1800
3500
75
28
195
190
410
105
112
50
4
0.17
39
JS308
3150
3500
85
28
212
190
410
125
112
57
4
0.26
60
JS309
5600
2450
100
42
248
210
410
140
142
–
6
0.43
98
JS310
8000
2300
110
42
274
210
410
160
142
–
6
0.51
136
JS311
12500
2000
125
60
324
250
410
180
142
–
6
0.74
195
JS312
18000
1800
150
70
368
260
410
220
172
–
6
0.91
257
JS313
25000
1600
180
70
400
270
410
255
172
–
6
1.14
338
JS314
35500
1500
200
110
458
350
380
270
212
–
6
1.9
447
JS315
50000
1350
220
120
500
360
410
305
212
–
6
2.8
547
JS316
63000
1220
250
130
565
390
450
360
252
–
6
3.5
829
JS317
90000
1100
275
150
610
400
500
395
252
–
6
3.7
1090
JS318
125000
1050
305
150
675
420
540
440
302
–
6
4.4
1468
JS319
180000
900
330
170
755
450
580
500
302
–
6
5.6
1840
Note: When ordering JS300 coupling, in addition to correctly marking the model and specification according to the specified marking method, it is also required to specify the length of the dimension "BE" between the 2 shaft ends.
If not specified when ordering, the minimum "BE" size shall be used to purchase the coupling.

♦Other Products List
Transmission Machinery 
Parts Name
Model
Universal Coupling
WS,WSD,WSP
Cardan Shaft
SWC,SWP,SWZ
Tooth Coupling
CL,CLZ,GCLD,GIICL,
GICL,NGCL,GGCL,GCLK
Disc Coupling
JMI,JMIJ,JMII,JMIIJ
High Flexible Coupling
LM
Chain Coupling
GL
Jaw Coupling
LT
Grid Coupling
JS
♦Our Company
Our company supplies different kinds of products. High quality and reasonable price. We stick to the principle of "quality first, service first, continuous improvement and innovation to meet the customers" for the management and "zero defect, zero complaints" as the quality objective. To perfect our service, we provide the products with good quality at the reasonable price.
Welcome to customize products from our factory and please provide your design drawings or contact us if you need other requirements.
♦Our Services
1.Design Services
Our design team has experience in cardan shaft relating to product design and development. If you have any needs for your new product or wish to make further improvements, we are here to offer our support.
2.Product Services
Raw materials → Cutting → Forging →Rough machining →Shot blasting →Heat treatment →Testing →Fashioning →Cleaning→ Assembly→ Packing→ Shipping
3.Samples Procedure
We could develop the sample according to your requirement and amend the sample constantly to meet your need.
4.Research & Development
We usually research the new needs of the market and develop the new model when there is new cars in the market.
5.Quality Control
Every step should be special test by Professional Staff according to the standard of ISO9001 and TS16949.
♦FAQ
Q 1: Are you trading company or manufacturer?
A: We are a professional manufacturer specializing in manufacturing various series of couplings.
Q 2: Can you do OEM?
Yes, we can. We can do OEM & ODM for all the customers with customized artworks of PDF or AI format.
Q 3: How long is your delivery time?
Generally it is 20-30 days if the goods are not in stock. It is according to quantity.
Q 4: Do you provide samples? Is it free or extra?
Yes, we could offer the sample but not for free. Actually we have a very good price principle, when you make the bulk order then cost of sample will be deducted.
Q 5: How long is your warranty?
A: Our Warranty is 12 months under normal circumstance.
Q 6: What is the MOQ?
A: Usually our MOQ is 1 pcs.
Q 7: Do you have inspection procedures for coupling ?
A: 100% self-inspection before packing.
Q 8: Can I have a visit to your factory before the order?
A: Sure,welcome to visit our factory.
Q 9: What's your payment?
A: T/T. 
♦Contact Us
Web: huadingcoupling Add: No.11 HangZhou Road,Chengnan park,HangZhou City,ZheJiang Province,China
Specific Safety Considerations for Using Reducer Couplings in High-Pressure Systems
When using reducer couplings in high-pressure systems, there are several important safety considerations to keep in mind to ensure the integrity and safety of the overall system. Here are some key points to consider:
Material Strength: Ensure that the reducer coupling is made from a material that can withstand the high pressure of the system. High-pressure applications often require couplings made from robust materials such as stainless steel, brass, or high-grade carbon steel.
Pressure Rating: Always check and verify the pressure rating of the reducer coupling. The pressure rating should be suitable for the maximum pressure that the system will experience. Exceeding the pressure rating of the coupling can lead to catastrophic failure.
Proper Sizing: Select a reducer coupling with the appropriate size to transition between pipes of different diameters while maintaining the required flow rate and pressure. Using an incorrectly sized reducer coupling can cause flow restrictions and pressure drops.
Sealing Integrity: Ensure that the reducer coupling has proper sealing mechanisms to prevent leaks under high pressure. O-ring seals or gaskets are commonly used to provide a reliable seal in high-pressure systems.
Fastening and Torque: If the reducer coupling has fasteners, such as bolts and nuts, make sure to use the correct tightening torque. Under-tightening can result in leaks, while over-tightening may damage the coupling or compromise its integrity.
Pressure Testing: Perform a pressure test on the entire system after installing the reducer coupling to identify any potential leaks or weak points. This step is crucial in high-pressure applications to ensure the system's safety and reliability.
Regular Inspection and Maintenance: High-pressure systems require regular inspection and maintenance to identify any signs of wear, corrosion, or fatigue in the reducer coupling. Addressing issues promptly can prevent accidents and system failures.
Compliance with Standards: Ensure that the reducer coupling complies with relevant industry standards and regulations for high-pressure applications. Using couplings that meet specific safety standards can provide added assurance of their reliability.
Operator Training: Properly train all personnel who handle high-pressure systems, including installation, maintenance, and operation procedures. Knowledgeable and skilled operators can contribute to the safe and efficient operation of the system.
Emergency Procedures: Establish clear emergency procedures and protocols in case of any unforeseen incidents or leaks in the high-pressure system. Preparedness is crucial to mitigate potential risks.
By taking these safety considerations into account and following industry best practices, the use of reducer couplings in high-pressure systems can be safe and reliable. It is essential to consult with experienced professionals and engineers when designing, installing, and operating high-pressure piping systems to ensure their proper functioning and safety.
Are There Industry Standards or Certifications for Reducer Couplings?
Yes, there are industry standards and certifications that apply to reducer couplings to ensure their quality, performance, and safety in plumbing and piping applications. These standards are established by various organizations and regulatory bodies to maintain consistency and reliability across the industry. Here are some of the common standards and certifications relevant to reducer couplings:
ASTM Standards: The American Society for Testing and Materials (ASTM) sets standards for various materials, including those used in reducer couplings. ASTM standards ensure the quality and performance of the materials used in the manufacturing of the couplings.
ASME Standards: The American Society of Mechanical Engineers (ASME) develops standards for various mechanical components, including couplings. ASME B16.9, for example, covers factory-made wrought steel buttwelding fittings, which include reducer couplings.
ANSI Standards: The American National Standards Institute (ANSI) develops and publishes standards that cover various aspects of coupling design, dimensions, and materials.
ISO Certifications: The International Organization for Standardization (ISO) provides certifications for manufacturers that adhere to internationally recognized quality management standards.
NSF/ANSI Certification: The NSF/ANSI certification is relevant for reducer couplings used in plumbing systems that convey drinking water. This certification ensures that the couplings comply with specific health and safety requirements for potable water applications.
UL Listing: The Underwriters Laboratories (UL) provide listing and classification for reducer couplings used in specific applications, such as fire protection systems, to ensure they meet safety standards.
It's essential to verify that the reducer couplings meet the relevant standards and certifications for the intended application. Using certified and compliant couplings ensures the proper functioning and safety of plumbing and piping systems.
When purchasing reducer couplings, look for manufacturers that provide documentation regarding compliance with industry standards and certifications. This information should be readily available and can help you make informed decisions when selecting the appropriate reducer coupling for your specific plumbing or piping project.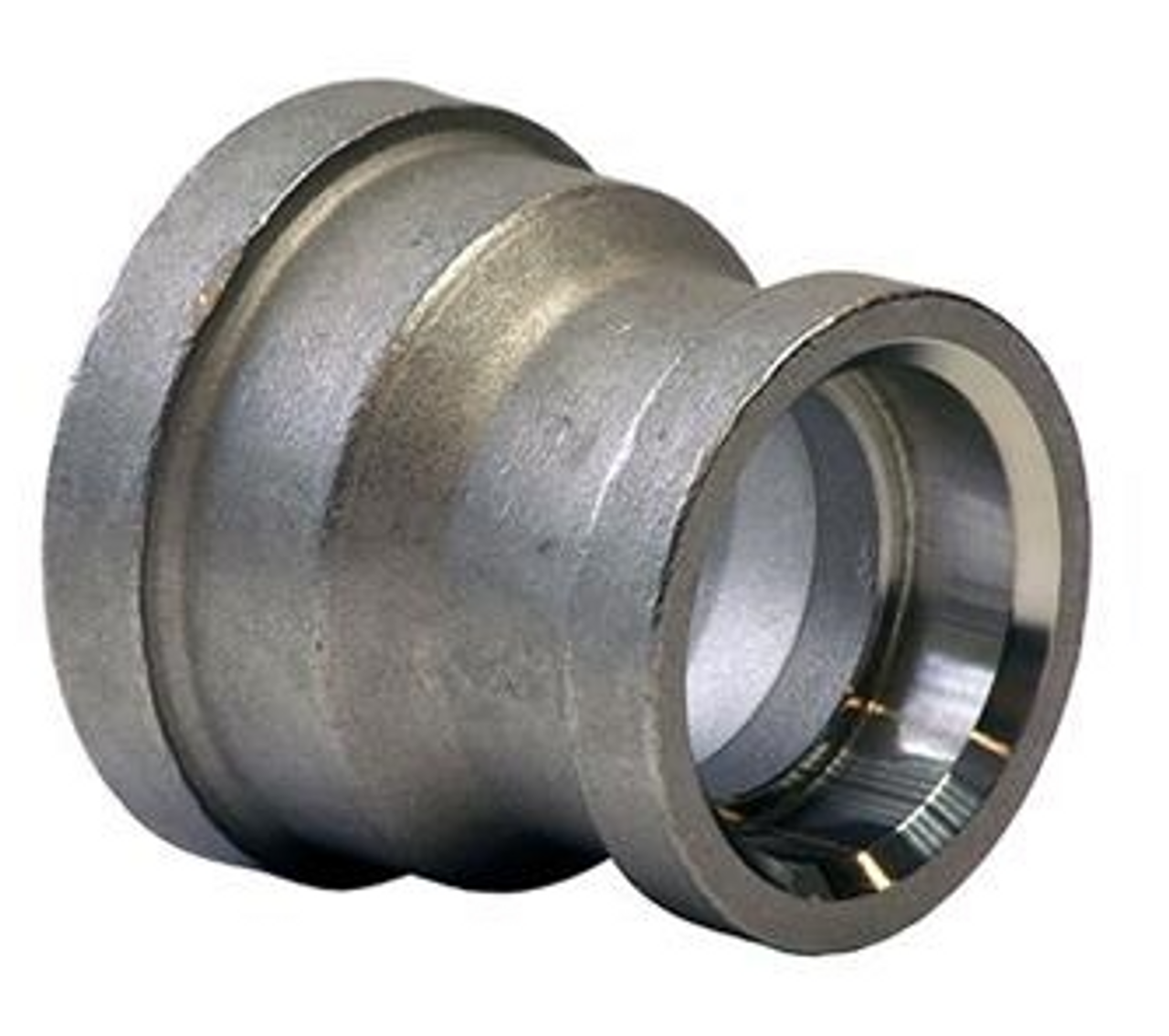 Can a Reducer Coupling be Used for Both Permanent and Temporary Connections?
Yes, a reducer coupling can be used for both permanent and temporary connections in plumbing and piping systems.
For Permanent Connections:
In plumbing and piping installations, reducer couplings are commonly used for permanent connections when there is a need to join two pipes of different diameters permanently. These couplings provide a secure and reliable connection that can withstand the pressure and flow requirements of the system over an extended period. The coupling is typically secured in place using appropriate joining methods, such as solvent cementing, threading, welding, or mechanical fasteners, depending on the material and type of pipes being connected.
For Temporary Connections:
Reducer couplings can also be used for temporary connections, especially in situations where there is a need to connect two pipes of different sizes temporarily. Temporary connections are often required during maintenance, repairs, or system modifications. The advantage of using a reducer coupling for temporary connections is that it can be easily disconnected and reused when needed. For example, in construction sites or during renovations, temporary reducer couplings allow for flexible adjustments without the need for permanent alterations to the plumbing or piping system.
It's important to note that while reducer couplings can be used for temporary connections, the specific joining method used may vary depending on the application and the intended duration of the connection. For temporary connections, solutions such as quick-connect fittings or clamp-on couplings may be preferred for their ease of installation and removal.
Whether used for permanent or temporary connections, it is essential to select a high-quality reducer coupling that meets the required standards and is suitable for the specific application. Additionally, proper installation and adherence to manufacturer guidelines are crucial to ensure a leak-free and reliable connection.



editor by CX 2023-08-22