Product Description
Product Description
| | |
| --- | --- |
| Product Name | 2 Inch Plastic Pipe Reducer Y Plumbing Coupling |
| Raw Material | HDPE (PE80 or PE100) |
| Function | Drainage System |
| Standard | SDR26 |
| OEM&ODM | Acceptable |
| Working pressure | PN6 |
| Connecting | Butt fusion |
| Lifespan | 50 Years |
| Place of Origin | ZHangZhoug, China |
Detailed Photos
| | | | | | | | | | | |
| --- | --- | --- | --- | --- | --- | --- | --- | --- | --- | --- |
| Size | Size | Size | Size | Size | Size | Size | Size | Size | Size | Size |
| 50*50*50 | 50 | 50 | 63*50 | 50*50 | 50 | 50 | 50*50 | 50*50 | 50 | 50 |
| 56*56*56 | 56 | 63 | 63*56 | 75*50 | 75 | 56 | 75*50 | 75*75 | 75 | 63 |
| 63*50*63 | 63 | 75 | 75*50 | 75*75 | 90 | 63 | 75*75 | 110*50 | 90 | 75 |
| 63*63*63 | 75 | 90 | 75*56 | 90*50 | 110 | 75 | 110*50 | 110*75 | 110 | 90 |
| 75*50*75 | 90 | 110 | 75*63 | 90*90 | 125 | 90 | 110*75 | 110*110 | 160 | 110 |
| 75*63*75 | 110 | 125 | 90*50 | 110*50 | 160 | 110 | 110*110 | 160*110 | 200 | 125 |
| 75*75*75 | 125 | 160 | 90*56 | 110*75 | 200 | 125 | 160*110 | 75*50 |   | 160 |
| 90*50*90 | 160 | 200 | 90*63 | 110*110 |   | 160 | 160*160 |   |   | 200 |
| 90*63*90 | 200 | 250 | 90*75 | 125*110 |   | 200 |   |   |   |   |
| 90*75*90 | 250 | 315 | 110*50 | 125*125 |   | 250 |   |   |   |   |
| 90*90*90 | 315 |   | 110*56 | 160*75 |   | 315 |   |   |   |   |
| 110*50*110 |   |   | 110*63 | 160*110 |   |   |   |   |   |   |
| 110*63*110 |   |   | 110*75 | 160*160 |   |   |   |   |   |   |
| 110*75*110 |   |   | 110*90 | 200*110 |   |   |   |   |   |   |
| 110*90*110 |   |   | 125*75 | 200*160 |   |   |   |   |   |   |
| 110*110*110 |   |   | 125*90 | 200*200 |   |   |   |   |   |   |
| 125*75*125 |   |   | 125*110 |   |   |   |   |   |   |   |
| 125*90*125 |   |   | 160*75 |   |   |   |   |   |   |   |
| 125*110*125 |   |   | 160*90 |   |   |   |   |   |   |   |
| 125*125*125 |   |   | 160*110 |   |   |   |   |   |   |   |
| 160*75*160 |   |   | 160*125 |   |   |   |   |   |   |   |
| 160*90*160 |   |   | 200*90 |   |   |   |   |   |   |   |
| 160*110*160 |   |   | 200*110 |   |   |   |   |   |   |   |
| 160*125*160 |   |   | 200*125 |   |   |   |   |   |   |   |
| 160*160*160 |   |   | 200*160 |   |   |   |   |   |   |   |
| 200*75*200 |   |   | 250*110 |   |   |   |   |   |   |   |
| 200*90*200 |   |   | 250*125 |   |   |   |   |   |   |   |
| 200*110*200 |   |   | 250*160 |   |   |   |   |   |   |   |
| 200*125*200 |   |   | 250*200 |   |   |   |   |   |   |   |
| 200*160*200 |   |   | 315*160 |   |   |   |   |   |   |   |
| 200*200*200 |   |   | 315*200 |   |   |   |   |   |   |   |
| 250*90*250 |   |   | 315*250 |   |   |   |   |   |   |   |
| 250*110*250 |   |   |   |   |   |   |   |   |   |   |
| 250*125*250 |   |   |   |   |   |   |   |   |   |   |
| 250*160*250 |   |   |   |   |   |   |   |   |   |   |
| 250*200*250 |   |   |   |   |   |   |   |   |   |   |
| 250*250*250 |   |   |   |   |   |   |   |   |   |   |
| 315*110*315 |   |   |   |   |   |   |   |   |   |   |
| 315*125*315 |   |   |   |   |   |   |   |   |   |   |
| 315*160*315 |   |   |   |   |   |   |   |   |   |   |
| 315*200*315 |   |   |   |   |   |   |   |   |   |   |
| 315*250*315 |   |   |   |   |   |   |   |   |   |   |
| 315*315*315 |   |   |   |   |   |   |   |   |   |   |
Company Profile
Our Advantages
HangZhou CZPT specialized on HDPE Drainage system pipes and fittings, all kinds of PP, ABS, POM water faucet over 15 years. Our products cover washing machine taps, dispenser taps, kitchen mixer faucet, basin mixer faucet, bathroom faucet, etc. Our products have been exported over 20 countries and we have more than 10 years of exporting experience.
Certifications
Our products of PPR pipes and fittings, HDPE pipes and fittings, all kinds of PP, ABS, POM water faucet, washing machine taps, dispenser taps, kitchen mixer faucet, basin mixer faucet, bathroom faucet, have been awarded EPA certification, GS certification and some patent of domestic.
Packaging & Shipping
FAQ
Q1.Are you a manufacturer or trading company?
We are a professional manufacturer over 15 years, mainly produce plastic faucets, bibcock, valve, fitting, pipes, etc.
 
Q2.Do you do OEM service? Can you make our own LOGO?
Yes, we accept OEM order and can laser customer's LOGO on the products.
 
Q3.Do you make sample for customer? Will you charge it or not?
Yes, we can sent you samples freely, but the express cost will be payed by customer.
 
Q4.How about the MOQ?
We don't have the MOQ reuirement, small trial order also acceptable.
 
Q5.What is your payment term?
We accept 30% T/T deposit in advance, the balance before shipment or L/C, also can be negotiated based on order.
 
Q6.What about the delivery time?
7-30 days after receiving the 30% deposit.
 
Q7.Where is your factory?
We are located in HangZhou, China. The famous port city in the middle of China.
8.Why choose us?
a. Genuine produces with excellent quality and competitive price.
b. Cooperating with the customers all over the world and knowing the markets very well.
Specific Safety Considerations for Using Reducer Couplings in High-Pressure Systems
When using reducer couplings in high-pressure systems, there are several important safety considerations to keep in mind to ensure the integrity and safety of the overall system. Here are some key points to consider:
Material Strength: Ensure that the reducer coupling is made from a material that can withstand the high pressure of the system. High-pressure applications often require couplings made from robust materials such as stainless steel, brass, or high-grade carbon steel.
Pressure Rating: Always check and verify the pressure rating of the reducer coupling. The pressure rating should be suitable for the maximum pressure that the system will experience. Exceeding the pressure rating of the coupling can lead to catastrophic failure.
Proper Sizing: Select a reducer coupling with the appropriate size to transition between pipes of different diameters while maintaining the required flow rate and pressure. Using an incorrectly sized reducer coupling can cause flow restrictions and pressure drops.
Sealing Integrity: Ensure that the reducer coupling has proper sealing mechanisms to prevent leaks under high pressure. O-ring seals or gaskets are commonly used to provide a reliable seal in high-pressure systems.
Fastening and Torque: If the reducer coupling has fasteners, such as bolts and nuts, make sure to use the correct tightening torque. Under-tightening can result in leaks, while over-tightening may damage the coupling or compromise its integrity.
Pressure Testing: Perform a pressure test on the entire system after installing the reducer coupling to identify any potential leaks or weak points. This step is crucial in high-pressure applications to ensure the system's safety and reliability.
Regular Inspection and Maintenance: High-pressure systems require regular inspection and maintenance to identify any signs of wear, corrosion, or fatigue in the reducer coupling. Addressing issues promptly can prevent accidents and system failures.
Compliance with Standards: Ensure that the reducer coupling complies with relevant industry standards and regulations for high-pressure applications. Using couplings that meet specific safety standards can provide added assurance of their reliability.
Operator Training: Properly train all personnel who handle high-pressure systems, including installation, maintenance, and operation procedures. Knowledgeable and skilled operators can contribute to the safe and efficient operation of the system.
Emergency Procedures: Establish clear emergency procedures and protocols in case of any unforeseen incidents or leaks in the high-pressure system. Preparedness is crucial to mitigate potential risks.
By taking these safety considerations into account and following industry best practices, the use of reducer couplings in high-pressure systems can be safe and reliable. It is essential to consult with experienced professionals and engineers when designing, installing, and operating high-pressure piping systems to ensure their proper functioning and safety.
How to Select the Right Reducer Coupling Material Based on the Fluid Being Conveyed?
Choosing the appropriate material for a reducer coupling is crucial to ensure its compatibility with the fluid being conveyed in plumbing and piping systems. The choice of material depends on factors such as the type of fluid, temperature, pressure, and the surrounding environment. Here are some guidelines to help you select the right reducer coupling material:
1. Identify the Fluid: Determine the type of fluid that will flow through the piping system. Different fluids have varying chemical compositions and properties, which can affect the material's corrosion resistance and overall performance.
2. Consider Corrosion Resistance: If the conveyed fluid is corrosive or contains chemicals that can react with certain materials, choose a reducer coupling material with excellent corrosion resistance. For corrosive environments, materials like stainless steel, PVC, CPVC, or certain types of alloys are often preferred.
3. Temperature and Pressure: Evaluate the operating temperature and pressure of the system. Some materials may have limitations in extreme temperatures or high-pressure conditions. Ensure the selected material can withstand the specific operating conditions.
4. Fluid Compatibility: Check if the material is compatible with the specific fluid to avoid any adverse reactions that could compromise the coupling's integrity or contaminate the conveyed fluid.
5. Environmental Factors: Consider the surrounding environment, including exposure to UV radiation, outdoor elements, or potential impact on the material's mechanical properties.
6. Regulatory Requirements: Ensure that the selected material complies with any industry standards or certifications required for the intended application, especially if the system conveys potable water or is subject to specific regulations.
Common materials used for reducer couplings include:
Stainless Steel: Offers excellent corrosion resistance and is suitable for a wide range of fluids, making it a popular choice for many applications.
PVC and CPVC: These materials are lightweight and corrosion-resistant, making them ideal for non-corrosive fluid conveyance and low-pressure systems.
Brass: Known for its durability and resistance to dezincification, brass is often used for water and gas applications.
Copper: Suitable for water and gas systems, copper is resistant to corrosion and has antimicrobial properties.
Carbon Steel: Provides strength and durability but may require corrosion protection in some environments.
Alloys: Various alloy materials offer enhanced properties such as higher corrosion resistance or better mechanical strength compared to individual metals.
Consulting with a knowledgeable engineer or a professional in the field can be beneficial in making the right material selection for your specific plumbing or piping system. Proper material selection ensures the reducer coupling's reliability and longevity, as well as the overall integrity of the fluid conveyance system.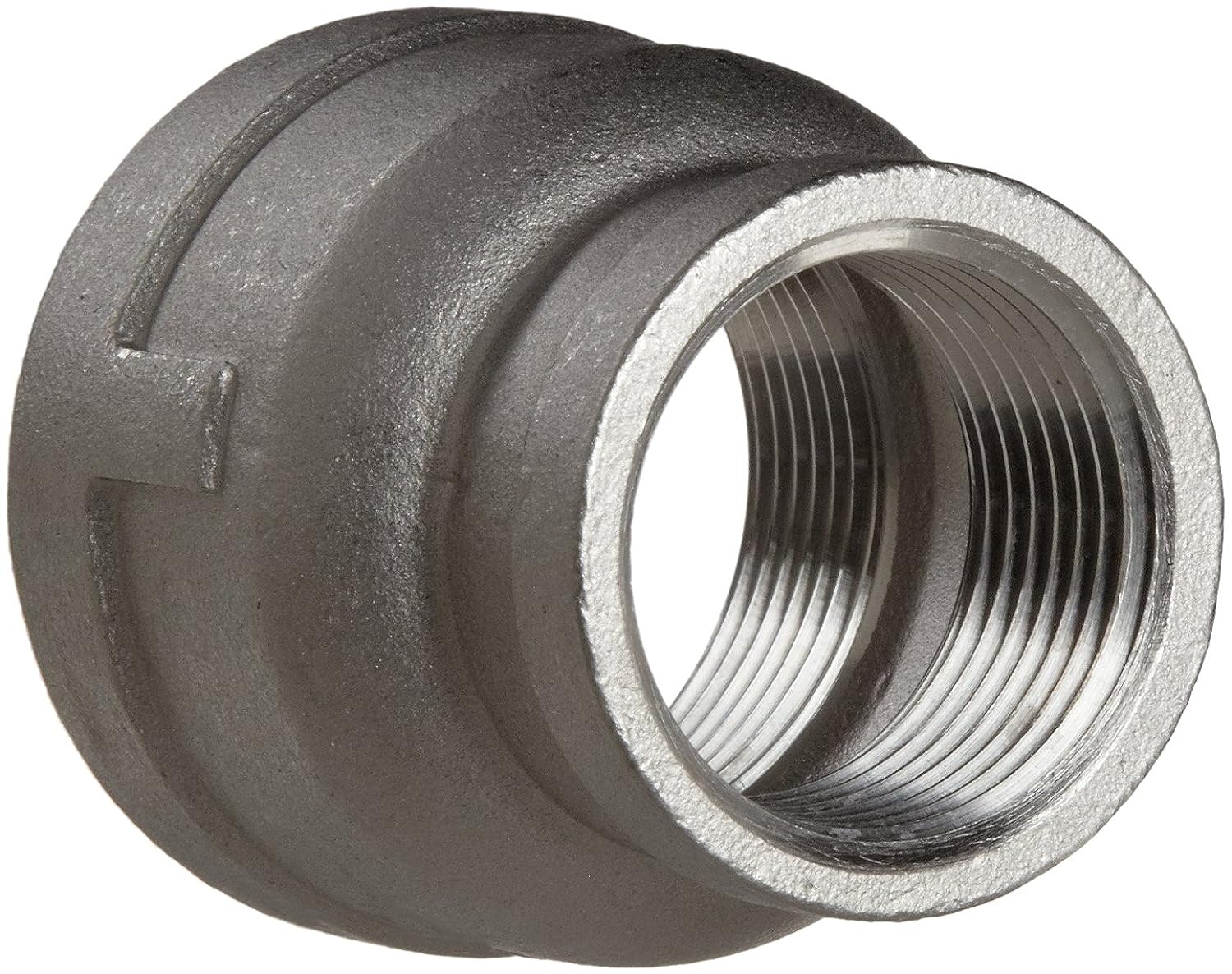 What are the Standard Sizes and Dimensions of Reducer Couplings?
Reducer couplings come in a variety of standard sizes and dimensions to accommodate different pipe diameters. The sizes and dimensions of reducer couplings are typically specified in terms of the nominal pipe size (NPS) and the outside diameter (OD) of the pipe.
For example, a common type of reducer coupling is a "concentric reducer," where the center axis of the two pipe ends remains in line. The standard sizes of concentric reducer couplings include:
1/2″ x 1/4″ NPS
3/4″ x 1/2″ NPS
1″ x 3/4″ NPS
1-1/4″ x 1″ NPS
1-1/2″ x 1-1/4″ NPS
2″ x 1-1/2″ NPS
2-1/2″ x 2″ NPS
3″ x 2-1/2″ NPS
4″ x 3″ NPS
6″ x 4″ NPS
8″ x 6″ NPS
10″ x 8″ NPS
12″ x 10″ NPS
It's important to note that the dimensions of the reducer coupling, including the overall length and the transition length, may vary depending on the specific manufacturer and industry standards. The dimensions of reducer couplings are designed to ensure a proper fit between pipes of different sizes, allowing for a smooth flow transition without abrupt changes that could lead to turbulence or pressure loss.
Additionally, reducer couplings are available in various materials, such as PVC, CPVC, stainless steel, brass, and copper, to suit the compatibility requirements of different pipe materials and applications.
Before selecting a reducer coupling for a specific application, it is crucial to consider the pipe sizes, material compatibility, pressure and temperature ratings, and the joining method to ensure a proper and secure fit for the plumbing or piping system.



editor by CX 2023-09-13