Product Description
Jaw spacer coupling,
1. The couplings offer a range of hub and element selection to meet different demands.
2. They can absorb shock and cater for incidental misalignment and damp out small amplitude vibrations.
3. NBR, Urethane, Hytrel elements.
4. Compared with Jaw coupling, their flanges are connected by longer shaft ends(DBSE), a spacer kit
    consists  of a spacer and QF ring kit (wrap+QF ring+3 screws).
5. Customzied requirement is available.
ZheJiang Shine Transmission Machinery Co., Ltd is specialized in manufacturing and selling transmission products.
Our products are exported to the world famous machinery company in Europe, America, South Africa, Australia, Southeast Asia etc.
Our main products include: European pulley, American pulley, Couplings, taper bushing, QD bush, lock element, adjustable motor base, motor rail, sprockets, chain, bolt on hubs, weld on hubs, jaw crusher equipment & spare parts and all kinds of non-standardCasting products etc.
 
| | |
| --- | --- |
| Standard Or Nonstandard: | Standard |
| Shaft Hole: | 0-35mm |
| Torque: | >80N.M |
| Bore Diameter: | 0-35mm |
| Structure: | Flexible |
| Material: | Aluminum/Iron/Rubber |
Samples:

US$ 0.00/Piece

1 Piece(Min.Order)

|
Request Sample
Customization:

Available

|

Customized Request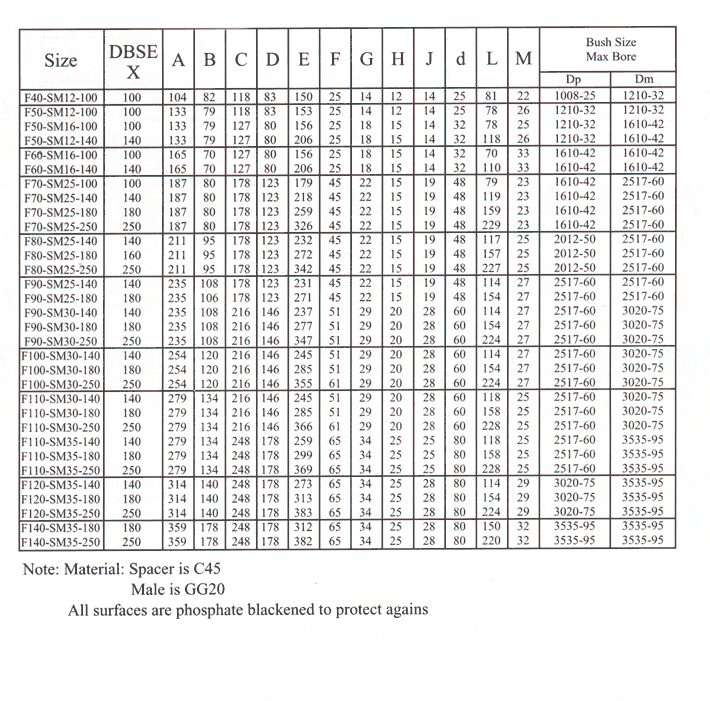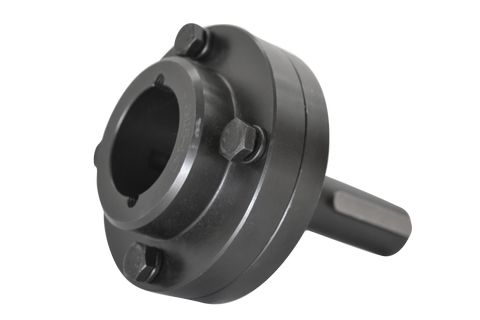 Are There Any Safety Considerations When Using Spacer Couplings in Rotating Machinery?
Yes, there are several safety considerations to keep in mind when using spacer couplings in rotating machinery. Proper installation, maintenance, and operational practices are essential to ensure the safe and reliable functioning of the couplings and the connected machinery. Here are some important safety considerations:
1. Proper Installation: It is crucial to follow the manufacturer's guidelines and instructions during the installation of spacer couplings. Improper installation can lead to misalignment, uneven loading, and premature wear, which may compromise the safety and performance of the system.
2. Regular Maintenance: Routine maintenance is necessary to keep spacer couplings in optimal condition. Regular inspections can help identify wear, misalignment, or other issues early on, preventing potential failures and ensuring safe operation.
3. Torque and Speed Limits: Always adhere to the recommended torque and speed limits provided by the coupling manufacturer. Exceeding these limits can lead to coupling failure, which may cause damage to the equipment and pose safety risks to personnel.
4. Alignment and Balance: Proper shaft alignment and balance are crucial for the safe operation of rotating machinery. Misalignment can lead to increased stress on the coupling and the connected components, resulting in premature wear and potential failures.
5. Temperature Considerations: Ensure that the spacer coupling's material and design are suitable for the operating temperature range of the application. Extreme temperatures can affect the coupling's mechanical properties and lead to reduced performance or failure.
6. Emergency Shutdown Procedures: Implement clear emergency shutdown procedures in case of coupling failure or other mechanical issues. Employees should be familiar with these procedures and have access to emergency shutdown controls.
7. Lubrication: Proper lubrication is essential to reduce friction and wear in spacer couplings. Ensure that the couplings are adequately lubricated according to the manufacturer's recommendations.
8. Regular Inspections: Periodically inspect the spacer couplings for signs of wear, corrosion, or damage. Replace any worn or damaged couplings promptly to prevent safety hazards.
9. Compliance with Regulations: Ensure that the use of spacer couplings complies with relevant safety regulations and industry standards to maintain a safe working environment.
By taking these safety considerations into account and following best practices, the use of spacer couplings in rotating machinery can be safe and effective, contributing to the reliable operation of industrial processes while minimizing the risk of accidents or failures.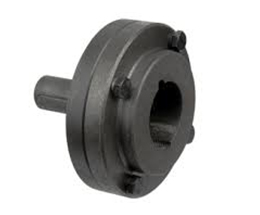 Can Spacer Couplings be Used in Applications with Varying Operating Temperatures?
Yes, spacer couplings can be used in applications with varying operating temperatures. The suitability of a spacer coupling for a specific temperature range depends on the materials used in its construction.
Many spacer couplings are designed to withstand a wide range of temperatures, making them versatile for use in diverse industrial environments. Some key considerations regarding temperature and spacer couplings include:
1. Material Selection: The choice of materials plays a crucial role in determining the temperature range that a spacer coupling can handle. Common materials used for spacer couplings include steel, stainless steel, aluminum, and various alloys. Each material has its own temperature limits, and it is essential to select a coupling made from materials that can withstand the anticipated temperature conditions in the application.
2. High-Temperature Applications: For high-temperature applications, spacer couplings made from materials with excellent heat resistance are suitable. Stainless steel and high-temperature alloys are often used in such cases. These materials can withstand elevated temperatures without losing their mechanical properties, ensuring reliable performance under extreme conditions.
3. Low-Temperature Applications: In low-temperature environments, certain materials may become brittle and lose their toughness. Spacer couplings intended for use in cold environments should be made from materials that remain ductile and reliable at low temperatures. Special low-temperature steels or alloys are commonly used for these applications.
4. Thermal Expansion: Spacer couplings should also account for the thermal expansion that occurs in machinery as it operates at varying temperatures. Different materials have different coefficients of thermal expansion, and the design of the coupling must consider these factors to prevent issues related to differential thermal expansion between connected components.
5. Insulation: In some applications, particularly in industries where electrical insulation is critical, spacer couplings with insulating properties may be necessary to prevent electrical conduction between connected shafts. Insulating spacer couplings are commonly used in electric motor drives and other electrical systems to enhance safety and prevent electrical interference.
When selecting a spacer coupling for an application with varying operating temperatures, it is essential to consider the specific temperature requirements of the system, the materials used in the coupling's construction, and any additional factors related to thermal expansion and insulation. Consulting with coupling manufacturers or experts can help ensure the correct coupling is chosen for the specific temperature conditions in which it will operate.



editor by CX 2023-08-14